Details of our 18 Foot Yurt
Our 18-foot yurt for hire is mainly reserved for use at weddings. This yurt is slightly larger than our 16-foot yurt but offers a significantly greater level of luxury for your wedding night, with exquisite antique furnishings and champagne for the happy couple.
Weddings
For an unforgettable, five-star experience that will be cherished for years to come, why not hire our luxury yurt for your wedding night? An upgrade to the smaller wedding yurt that we offer, the 18 ft yurt accommodates a super-sized, 18c French Bergere bed with fine Egyptian cotton bedding and a 15 tog, feather down duvet. Offering the ultimate in both comfort and style, this luxury wedding yurt is complete with elegant antique furniture, a cosy wood burning stove and a choice of interior packages allowing you to create the wedding night yurt of your dreams.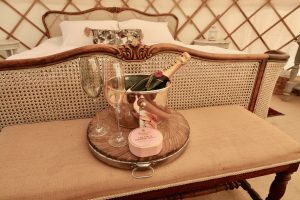 You can enjoy a range of refreshments on your wedding night without having to leave the comfort of your yurt as it comes complete with a hot drinks machine providing tea, coffee and hot chocolate. We also offer sumptuously soft dressing gowns and fluffy bath towels so that you can make the most of any on-site hot tubs or saunas at your venue.
Every detail is taken care of when you hire a luxury yurt for your wedding night, from the interior and furnishings down to the romantic touches such as champagne on ice, fresh flowers and chocolates ready for you upon arrival.
Glamping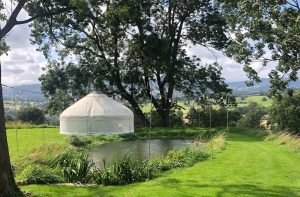 Our 18 ft yurt is also suitable for family glamping experiences and can be hired to provide additional accommodation at campsites, bed and breakfasts, hotels or holiday parks during events or peak times. Offering more room than its smaller counterpart, this yurt can accommodate larger families and provides increased space for children's mattresses.
Booking
Hire a luxury yurt for the weekend from just £600 (+ VAT). This price excludes interior packages and delivery costs which incur additional charges. The price above is for our weekend rate, where yurts are erected on a Friday and dismantled the following Monday. To book our 18 ft yurt or for details of extended and weekday hire rates, please get in touch with us.