Birthday Party Sleepover Yurts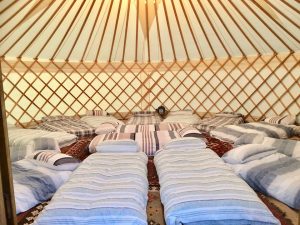 Children's birthday parties have always featured sleepovers and there's plenty of options out there. From small bell tents and tipis right up to more rigid structures such as our yurts, parents have a great choice when it comes to finding the right option for their birthday party sleepover. Children love sleeping out under canvas and here at Roundhouse Yurts, we've had over a decade of experience in making birthday party sleepovers a magical and memorable event.
Delivered and erected in your garden, our sleepover yurts come with a range of options from sleeping bags to fully made up beds. Persian rug flooring, chandelier and fairy lighting and a cosy heater makes one of our yurts a great winter sleepover choice.
Sleepovers at events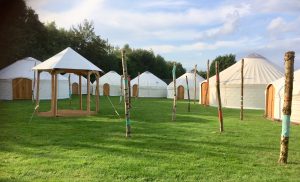 Whether it's for a wedding, sporting event, festival or simply a family get together, we have the perfect yurt interior to suit your sleeping needs. Our range of yurt sizes means there's always something for everyone and our solid oak lockable doors gives you the security of a private room wherever you are. From a luxury glamping yurt for two up to yurts providing glamping for large groups of 18-20 people dormitory style, we have a range of styles to suit all budgets.
Yurt sleepover numbers
Depending on interior requirements, the following are guideline numbers only and we're always happy to discuss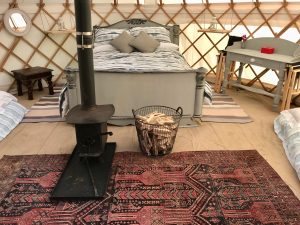 individual requests regarding yurts for large groups and give a complete no obligation quote for your event.
16ft yurt sleeping up to 6
18ft yurt sleeping up to 8
20ft yurt sleeping up to 10
24ft yurt sleeping up to 15
28ft yurt sleeping up to 18-20